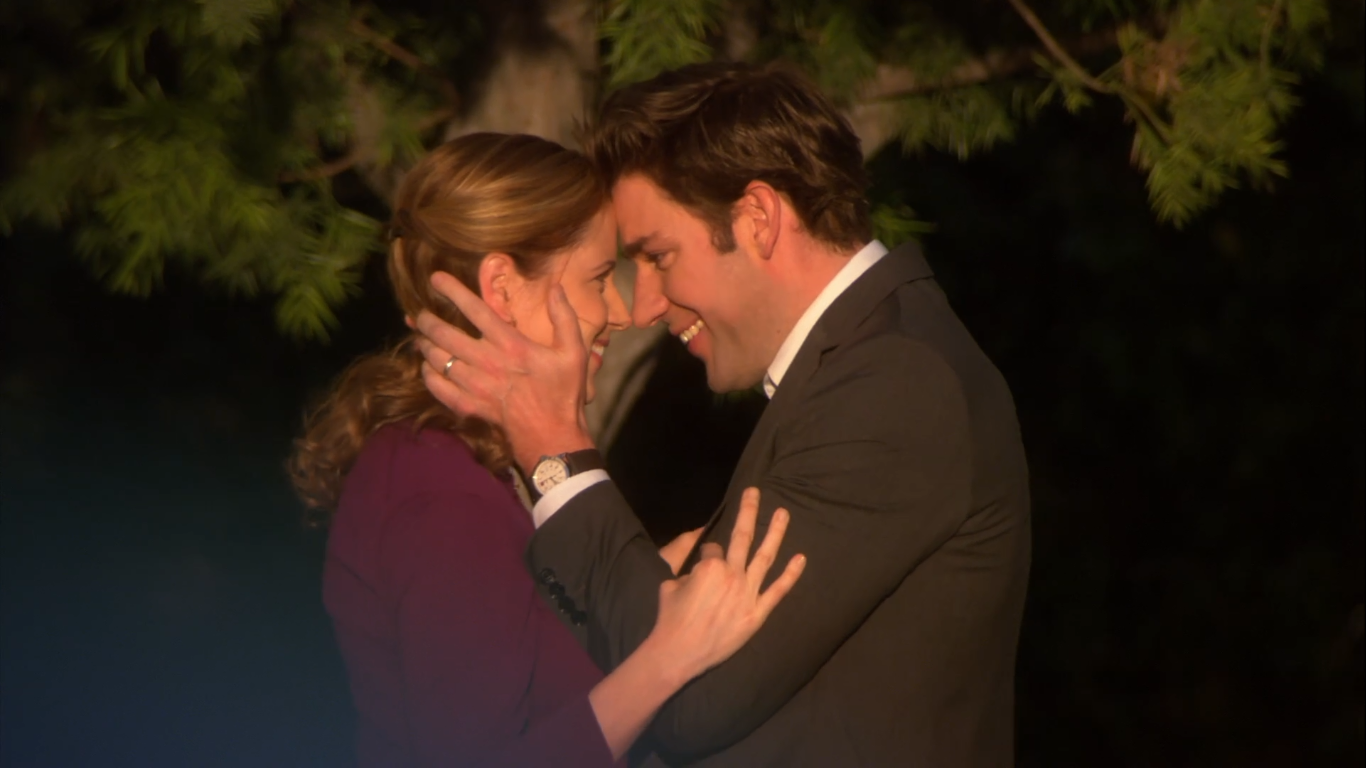 It was a mystery that plagued fans of The Office since the second season episode "Christmas Party." Jim Halpert (John Krasinski) bribes a co-worker to get Pam's (Jenna Fischer) name for the Christmas secret Santa. He buys her a teapot and fills it with goodies, including a note. Though the teapot got caught up in branch manager Michael Scott's (Steve Carrell) decision to substitute the exchange for a Yankee Swap, Pam manages to get a hold of the teapot, but not before Jim removes the note.
In the final season, we see Pam and Jim going through some personal struggles, but Jim gives Pam the note and she is seen reading it, though she declines to inform the audience of its content. So, what was in the note?
According to TODAY, Fischer revealed what it was on an episode of "Office Ladies," a podcast hosted with her and Angela Kinsey, who played Angela on the sitcom.
"I'm the only one who knows, and John knows," Fischer said. "In that episode in season nine, I believe ('The Office' writer and producer) Greg (Daniels) suggested to John that he write a personal message from himself to me just saying what our time together on 'The Office' meant to him. We were wrapping up the series, and we were all so emotional at that time."
"And so, that was his goodbye." She continued, "I'm on camera, and I open up this note that John's written me, and I just start crying. I just start bawling. The first take was probably not usable."
As far as the actual contents, she is staying mum about it, preferring to keep it a secret. She concluded, "It was the sweetest note. And on camera, Pam says, 'I'll never say what it said, but just know it was perfect.' Well, I'll never say exactly what John wrote, but I will say just know it was perfect."
What do you think? Let me know in the comments below. Tell me if there is a comic book, movie, or novel you would like me to review. While you are at it, check out my articles on Mad Cave Studios' new sci-fi comic book series or the first look at Robert Pattinson's Batman suit. Don't forget to like, share, and subscribe for more posts like this one.
Did you know my new fantasy novel "The Seven Royals: All Good Things" is now available on Barnes and Noble and Amazon? You can get your e-book copy at BookLocker.
You can find me everywhere on social media! Facebook: Author Jacob Airey | Instagram: realjacobairey| Twitter: @realJacobAirey | YouTube: StudioJake